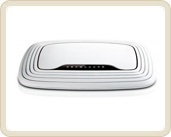 Do You own already a Freesat HD box and you have either lost completely BBC reception in the South of France or picture is unwatchable and freezing? This small device gives you a second chance to restore BBC, ITV etc viewing without changing your HD decoder or installing a larger dish. Simply connect it as shown on the schema below and the BBCs will be back to your TV screen via internet and not through the dish, In fact you may completely disconnect the dish. This device will turn your Freesat HD receiver into an IPTV receiver enabling all On Demand functions.
Most Humax Freesat receivers are compatible but if you have any doubt ENQUIRE including model number or BUY it here. Please mesure download speed before purchase, You must have at least 3 Mb/sec result. HOW TO MESURE INTERNET SPEED.
Satellite still remains a great way to receive UK HD TV in the North of France. ( as long as you can install a satellite antenna) For listed areas, buildings with restrictions and in the South of France where dish size is important viewers normally choose the IPTV FTA receiver. To understand better the differencies between the two systems and decide which one is the right for choice simply rrequest our DOCUMENTATION HERE which includes prices of material, channel lists, installation costs and other details.
Do you want to get catch-up TV and replay functions on your Freesat HD receiver? All you need is the UK IPTV adaptor listed here.