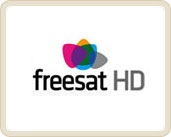 Freesat is the cheaper way to get UK TV in your french home. No cards, no monthly subscriptions. A one time buy gets you your own Freesat HD decoder working anywhere in France and you're ready to start channel surfing.
For viewers in North and central France satellite reception remains the best way to get 140 FREE UK TV channels as long as you can install a satellite antenna. For listed areas, buildings with restrictions and in the South of France where dish size is important viewers normally choose the Broadband receiver also known as IPTV receiver. To understand better the differencies between the two systems and decide which one is the right for you choice simply rrequest our DOCUMENTATION HERE which includes prices of material, channel lists, installation costs and other details.
New IPTV technology allows now to watch many freesat channels without a dish! Installing yourself a UK TV BROADBAND RECEIVER is quite easy. What's more you have recording as an extra option so you will never miss again your favorite TV series, ALL UK radios in digital quality. see more details with english tv in France or uk tv in Spain.
FlatMagic Hidden antenas allow discrete reception of UK Freesat in the North of France, see details here. When Your home is in the South of France or Spain, in a remote area with poor internet we have a solution for you Please enquire.
professional installations
Satellite Installation is all important! We can professionally fit the Freesat dish for you and ensure discrete and trouble-free operation...
english team
Buying from a company with 23 years of experience in TV systems you are sure to receive quality installation and service...